HintOS
™

Platform
The Operating System for Direct Care
Over 2,000 clinics trust HintOS™ to securely handle member enrollment, employer plan administration, eligibility management, billing, invoicing, payments, collections, and more.
Explore HintOS Plans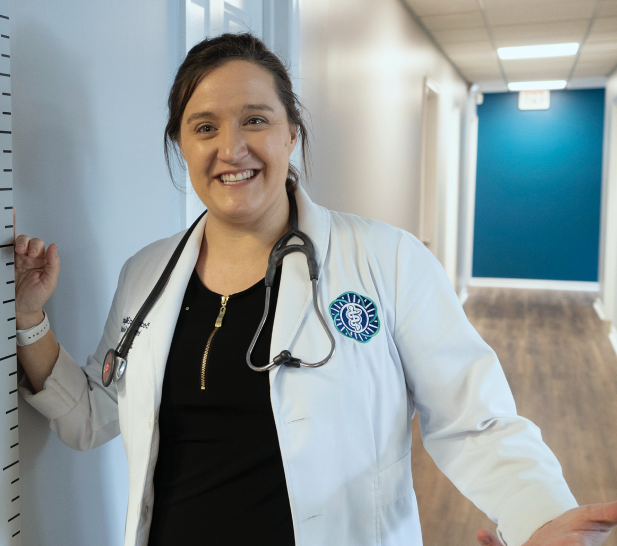 Dr. Becky McGilligan, Hint customer since 2017
Retail Membership Enrollment & Billing
Membership management made easy
HintOS is the only HIPAA-compliant software that helps you nail the fundamentals of direct care membership management so that you and your team can spend more time and resources on patient care.
Easy enrollment & document signing
Put your best foot forward with branded online patient enrollment forms and digital legal documentation.
Get paid accurately and on time, every time
Only HintOS flags expiring payment sources, retries and notifies you of failed charges, and automates dunning & collections processes.
Offer membership plans that fit everyone
Special terms for an employer? Offering a virtual-only plan? Customize pricing by services, employer, age, and more.
Hint-Exclusive Features
Schedule future plan changes for members
Automated emails remind those who don't finish enrollment
Provide affirming care with gender-inclusive enrollment forms
Use card readers and tie payments back to members
Add ancillary and one-time charges to member invoices
Control team access with role-based user permissions
A self-service portal for every patient
HintOS helps you nail the fundamentals of direct care membership management so that you and your team can spend more time and resources on patient care.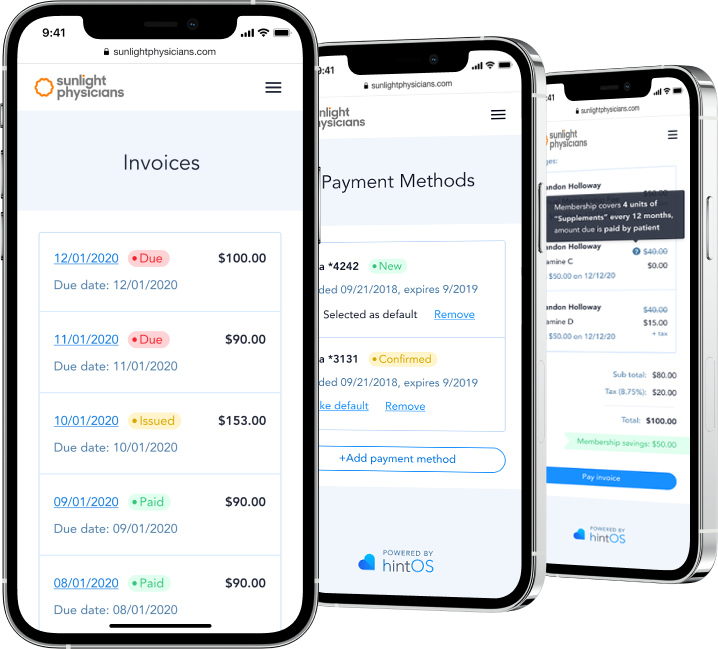 HintOS is crucial for what we need because we process over 300 membership changes per week. Our goal is to get as much information to the physician as quickly as we can so that that doctor-patient relationship is established."

Derrick Palmer,
COO
MyMD Connect
Employer Direct Contracting
Streamline how you work with employers
Stay on top of changes to employee eligibility
Automatically process changes from employee census files with Eligibility AutoSync™.
Maximize employee enrollments
Automated emails remind newly eligible employees to sign up.
Make it easy on employers
Give employers an online portal to view & pay invoices and update enrollment information.
Popular Features
Automate invoicing & payments, including one-off charges
Create unlimited customized plans for employers
Notify and remind employers of outstanding invoices, automatically
Make bulk updates to eligibility and enrollment
Case Study
Learn how Wild Health tripled their employer contracts and saved over $4,800/mo by switching to HintOS
View Case Study
Affiliate Network Infrastructure
There is no way to manage the number of affiliates and the number of patients that we take care of without HintOS."

Dr. Joel Bessmer,
CEO, Strada Healthcare
Team up to take care of large employers
Open and transparent direct care networks are bringing DPC to employers across the country. But finding the right network/affiliate match, managing contracts, keeping membership data current, and ensuring that affiliates are paid accurately and on time is a manual nightmare.
Find new partners and gain new members
Hint's Network Development service connects practices with direct care networks to create new opportunities for mutual growth.
Stay on top of membership updates
Enrollments and changes to member info & eligibility flow between network and affiliate.
Automate monthly 
invoices
Sayonara, spreadsheets. HintOS runs complex logic to ensure that affiliates are paid accurately and on time.
Popular Features
Member updates flow between network and affiliate in real time
Customize fees and payment terms by affiliate
Free portal for affiliates without HintOS
Video
Dr. Brieanna Seefeldt explains how her affiliation with the Nextera Healthcare Community is a win-win partnership.
Watch the Video (1:39)
Video
See what the owners of Strada Healthcare learned on their way to creating Nebraska's largest DPC network.
Watch the Video (1:46)
Reporting & Data Management
Reporting that puts you in control
Always know how you're doing
Your dashboard keeps track of trends in your business so you can make more informed decisions.
Identify areas of improvement
The new Practice Pulse™ report suggests steps you can take to promote a healthy business.
Export your data with ease
Extract and manipulate your data for accounting, advanced reporting and more.
The right information in the right place
HintOS offers integrations with popular clinical and business tools to create a more connected experience across your practice. Our API enables custom integrations with your apps, reporting tools, and more.
The most secure direct care platform
In 2020, the average cost of a data security breach in US healthcare reached $8.6M, and attacks on healthcare are on the rise, according to IBM. That's why Hint has invested in the processes and technologies required to safeguard patient privacy and keep your data safe.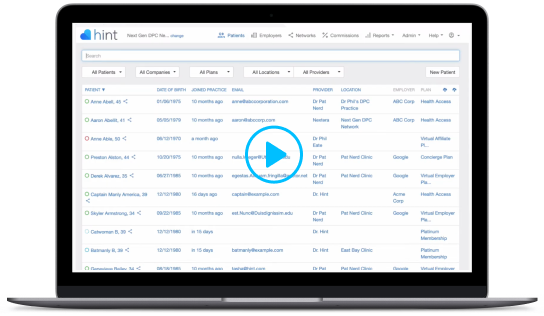 Take the tour
Get an overview of the most popular features of HintOS, and learn how you can get the most out of all that Hint has to offer.
Watch the Video (5:20)
Plans for every practice
Retail
Everything you need to offer direct-to-consumer memberships
Offer memberships to both employers and consumers with streamlined admin workflows
Enterprise
Scale retail and employer memberships across a large regional or national footprint.
Frequently Asked Questions
I've signed up for my HintOS account, what are the next steps?
A. Once the initial onboarding form has been completed, you will receive two emails: one to create your account login and a second one to schedule time with our Customer Success team to review your account configurations and go through training.
B. If you have an existing practice and need data migration, our Customer Success team will work with you to get your data migrated into your HintOS account free of charge.
C. If you or your staff need additional training or have any questions about your account, please feel free to contact support@hint.com.
Can I upgrade my account to a different HintOS plan after getting started?
Can HintOS support hybrid model practices?
Yes. Many hybrid practices use Hint to power the DPC side of their practice, but another solution will be needed to handle insurance claims.
Is there an app that can be downloaded for Hint?
HintOS is a cloud-based platform that can be accessed from an internet browser on any device with internet access; there is no mobile app.
Is there a patient portal?
There is not a patient portal as we want to ensure practices are aware of changes made to memberships and have the opportunity to discuss changes with the member.
Can a member update their information?
A member can update their payment information from the email notifications they receive. They can also make a payment on an invoice from the upcoming membership invoice or one-off invoice email notifications. If a member needs to update their personal information, they should reach out to your practice.
Where can I learn more about how integrations work?
When does billing for HintOS start?
For new practices, we offer a free pre-enroll period to allow you to configure your account and get members signed up prior to your launch. We will not start billing until your launch date.
For existing practices, billing will start once the account has been configured and any data migration has been completed.
Is there a merchant processor in the platform?
Stripe is integrated into the platform.
Can any other payment processors be integrated?
Not at this time, but we do plan to enable additional payment gateways in the future.
Does the patient's payment information get stored on file?
It depends on whether or not a patient is signing up for a membership or one time visit.
If a patient enrolls for a membership online, payment information will be collected and stored securely with Stripe during enrollment. Additionally, upon entering their payment information, they will see the following notice of authorization:
"By submitting your account information, you authorize to electronically debit and credit your account on a recurring basis as set forth in your membership agreement or as displayed to you during the enrollment process. You understand you can contact to revoke this authorization at any time."
If a patient is not a member and is only signing up for a one-time visit through online enrollment, their payment will be collected upfront, but their payment information will not be stored. If this patient would like to keep payment information on file, they can be sent a request through the platform.
Is HintOS HIPAA-compliant?
Yes.
How does Hint secure patient data?
Hint combines four methods to ensure patient's data are protected;
Technology
Encryption of data at rest and in transit
Encryption of backup
Encrypted email
Data loss prevention enable (DLP)
Vulnerability scan
Training
HIPAA training
Security training
Phishing training
Secure development training
Process
All access to PHI are restricted by job function
All changes are logged
All access authentication are logged
All data changes are logged
Audit
External third party audit
Internal audit
Access audit
Security configuration audit
What security framework or methodology does Hint follow?
Hint Health has SOC 2 Type 1 and ISO27001 data security compliance certifications. HintOS is also HIPAA compliant. Hint's data security and patient privacy standards are unmatched by other potential solutions for direct care administration.
Let us earn your business
Submit your contact information, and a member of our team will be in touch to schedule a demo and explore your organization's unique needs.